2018 Mazda 6 Driving Impressions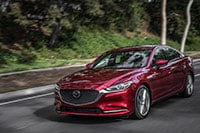 The base SkyActiv 2.5-liter four-cylinder is smooth, and quick enough for most buyers; with a curb weight of about 3200 pounds, the Mazda6 is light for a midsize sedan, which takes a load off the engine. It's a small joy with the 6-speed manual transmission, which comes with the Sport model and is available on the Touring. The engine is happiest when it's being revved. It's more than competitive against the four-cylinders in its class.
Mazdas are known for their good balance and handling, and the Mazda 6 enhances that reputation with its standard G-Vectoring Control system of computer-controlled braking to separate front wheels in corners, bringing increased composure by shifting the weight distribution to where the grip needs it. Mazda says the deceleration force is just 0.01 g or less, so it's undetectable, but it makes a difference to the dynamics. The turn-in is more secure.
If a plush ride is a priority in your midsize sedan, the Mazda 6 might not be for you. The ride is firm and sporty on the standard 17-inch alloy wheels, and firmer with the 19s on the Touring and Grand Touring models. The steering is direct and communicative. It comes alive on a curvy road. There are clear bloodlines to the brilliant Mazda Miata.