2018 Mazda CX-9 Walk Around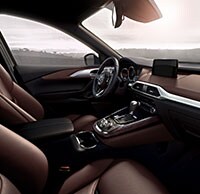 The CX-9 is elegant, with a long hood, tapered fenders, and dramatic (for an SUV) roofline. Its tall nose features a large but delicate grille that's tilted at the top like a Volvo XC90, and LED headlamps; on the Signature, the grille has LED background lighting. The rear pillars arc upward. The wide stance gives an athletic look that could pass for Italian.
Interior
The CX-9 cabin is car-like, with a low shelf-like dashboard similar to the design in other Mazda vehicles. The materials feel upscale and expensive. The brown Nappa leather in our test Signature was gorgeous. The switchgear placement sometimes seems haphazard, and there's a lot of glossy black plastic that will show smudges. The driver's line of sight includes a 4.6-inch screen with trip information and functions.
The touchscreen sits awkwardly on the dash like a TV on a Motel 6 dresser (a design that makes it easier for the manufacturer to upgrade on later models). The radio is easy to tune, but the infotainment system feels dated. The system is menu intensive and takes too many clicks to program. The navigation system lags competitors. Apple CarPlay and Android Auto connectivity are not available.
The CX-9 has less room inside than its rivals, however the split-fold second row is on a sliding track, which allows one inch more legroom than the Pilot or Highlander. The rear seats recline but lack support from contour.
The front seats are spacious but firm, and also lack support. Good adjustment, and a tilt/telescope steering wheel, but a wide center console steals side legroom.
The third row is not for adults. Behind it, there's only 14.4 cubic feet of cargo space. With the third row folded flat, there's 38.2 cubic feet. The CX-9 works best like this, as a five-seat crossover.
With both rows folded, we fit in two kayaks and two electric bicycles. The only problem was that the liftgate wouldn't close all the way, and there's no way to shut off the beeper that warns you it's open. So we drove all the way to the river with the radio on full blast to drown out the warning telling us what we obviously already knew.